GUO PEI (HAUTE COUTURE FALL 19): SHOW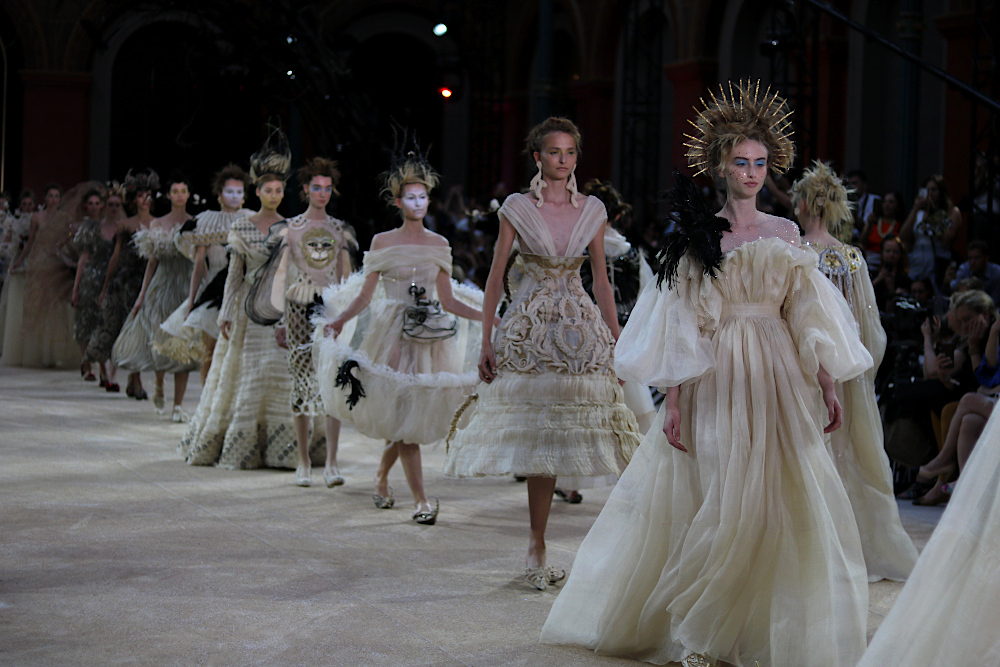 As I was scrolling through my instagram feed, I noticed that Guo Pei was reposting snapshots of her last défilés. Isn't that one on my blog yet? – I thought
As she logged into TheFashionAction.com, the redactor of this website found herself deeply sorry by the discovering of this article: a finished but never-published daft. But again, better late than never, right?
Last year, I was lucky enough to be invited to Guo Pei's fashion show. As usual, the female fashion designer outdid herself, presenting a collection full of incredible pieces of art, feathers and wrappings.
The collection, called Alternate Universe, genuinely depicted an unusual scenario, where guilded-crowned women walk along fairy-like creatures wearing feathery gowns, at the very famous Palais des Beaux Arts in Paris.
Who wouldn't have asked for more ?
I was eager to know the reasons which had pushed the Chinese fashion icon to design such an interesting collection.
Finding her inspiration in myths and religion, Pei's art craft represents the coexistence of two completely opposite entities: lightness and darkness. The story seems to be all about their fight, emphasized by Pei's three dimensional embroidery technique.
« I think that fashion shouldn't just be about the present, and I care more about the meaning behind the details. As such, the embroidery and motifs you see on my clothing have stories behind them. »

Guo Pei

They do have multiple stories behing them, such as ancien Chinese myths and legends. But the best story is actually the making-of of the outfit: who would have guessed that the fabrics were made of pineapple hemp?
« While incorporating contemporary innovation, I try my best to showcase the finest of traditional craftsmanship and Chinese culture via my creations « 

Guo Pei
I think Pei's imagination will never deceive us: I found, during this show, the same emotions her Grand-Palais event had given me two years ago. It's really interesting to be able to follow a designer in her journey throught the years. Lucky me !
Looking forward to show you guys her next collection!
Whishing you the best,
Anna