FASHION JOB – NIJI, THE FASHION MULTITASKER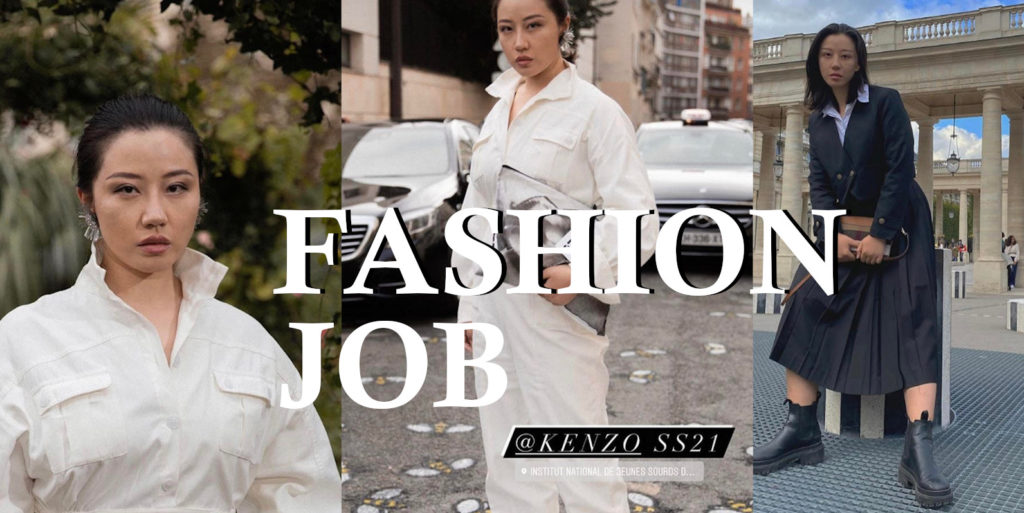 Hello, I am extremely pleased to share with you the first interview of The Fashion Action's new series, Fashion Job, which depicts the life of people who work in the fashion industry. I hope that having an inside point of view of the industry can help you learning more about these jobs, and maybe make you want to change career.
I would like first to thank Niji, who took the time to make a video appointment with me and answer all my questions! Niji and I know each other for a few years now, even if we never really found the time to meet again. I first talked to her outside of a defile, when she was with a model she was helping. I loved the fact that she did not follow a single career path, and that she did not hesitate to switch career in order to be happier.
A little summary of this first article: Who are you and what is your job? What's your story? What is your best advice? What would be the downsides of your job? What do you like the most about Fashion Week?
Let's start…
Who are you and what is your job?
Hello, my name is Niji and I'm a fashion photographer and also a fashion blogger. But I mainly work in communication: I organize projects between France and China. I'm really polyvalent and I can adapt to almost all fashion works, and that's what I like because I'm extremely curious. I'm at the same time a model booker, a makeup artist and a graphic designer.
Bonjour, je m'appelle Niji, je suis photographe et blogger mode (je vais ouvrir prochainement mon blog pour présenter mes travaux), mais je fais de la communication visuelle (j'ai une formation de graphiste). Je m'occupe aussi d'organiser des projets entre la France et la Chine. Je suis très polyvalente et je peux exercer tous les métiers qui concernent la mode : c'est ce qui me plait ! Je suis curieuse de tout. Je n'appartiens à aucune case : je suis à la fois bookeuse de modèles, makeup-artiste et graphiste.
My job is also to be an spokesperson for Chinese fashion buyers or magazines: I am very helpful for all production phases.
We first need to remind ourselves that French and Chinese mentalities are extremely different. Indeed, French and Chinese people often doesn't understand each other. These different habits can be seen for instance on a budget choice : thanks to my experience, I can give advice to both parties. Chinese brands can ask me to set up a showroom in Paris, and because I'm already here, I know how much it costs, Europeans' tastes, Parisians agencies… I can manage the whole process in order to avoid communication problem. So I help adapting the Chinese project to the French market and vice versa. I also take pictures: I can sell my snapshots to Chinese magazines or work with French fashion schools like ESMOD.
I'm also a model booker, which means I help Chinese fashion models to get jobs (défilés) and find them a place to live while they are in Paris. They deeply need that help because most of them doesn't speak a word of French. They also need assistance in the more administrative side! I help them coping with French mentalities and culture too.
Mon métier est d'être l'interprète des acheteurs ou magazines de mode chinois pour les français, et inversement. Je suis en effet nécessaire pour ce qui est des phases de production et de communication. Il faut tout d'abord se rappeler que les visions françaises et chinoises sont, si elles ne sont pas opposées, divergentes. En effet, français et chinois ne se comprennent souvent pas du tout, que ce soit en terme de mentalités ou d'habitudes. Ces distinctions s'observent dans des cas concrets, comme les problèmes de budget : je fais alors l'intermédiaire entre les deux parties, et mon expérience dans les deux pays m'est très utile. J'aide à adapter le projet chinois à la vision française et inversement. Au coeur d'un projet, je sers de liaison: je demande les prix aux agences et j'organise les showroom. Si un client cherche une agence pour faire un défilé à Paris, il y a souvent des problèmes de communication entre chaque partie du défilé, donc je sers de lien. Je fais aussi de la photographie : je peux revendre mes photos à des magasines chinois ou travailler pour des écoles de mode comme ESMOD.
Finalement, j'aide aussi les mannequins chinois qui arrivent en France à trouver du travail, car la plupart ne parle pas un mot de français. De plus, ils ont besoin d'aide pour tout le coté administratif, pour trouver une agence, mais ils ont aussi besoin de conseils, car il y a beaucoup de concurrence. Le métier de mannequin évolue, car beaucoup d'influenceurs deviennent mannequins et inversement. Petits créateurs qui ne comprennent pas bien le marché chinois.
What's your story ?
I started by doing art studies in China, and more precisely classical art (I've always been found of drawing and painting). But it's known well that's it's hard to live off illustrations. Because I really liked foreign languages, and that I wanted to go to Europe, I went to France. I went to ECV Paris, a graphic design school, and thanks to a friend, I got to work at Louis Vuitton in parallel of my studies . Then, I went to Lyon to study langages for 2 years. I've been in France for 13 years now! I remember how hard itw as, because I only spoke 10 words of French.
J'ai commencé par faire des études d'art en Chine, plus précisément de l'art classique (j'ai toujours été passionnée de dessin et de peinture). Mais c'est dur de vivre seulement en vendant ses illustrations ou des peintures. Comme j'aimais les langues étrangères, et que je voulais aller en Europe, je suis partie en France. J'ai fait une école de graphisme, ECV à Paris, et en j'ai travaillé en parallèle comme graphiste chez Luis Vuitton, grâce à une amie qui m'avait parlé de cette opportunité. Ensuite, je suis allée faire 2 ans d'études de langue à Lyon.  Cela fait aujourd'hui plus de 10 ans que je suis arrivée à Paris, et je vis en France depuis 13 ans. Je me souviens comme c'était dur d'arriver en France, car je parlais à peine 10 mots ! Dans mon école, avec quelques autres étudiants chinois, nous essayions d'apprendre le français, mais nous étions tous mauvais.
What is your best advice?
I did not want to work in the Fashion Industry when I was younger. I am the only one of my family, which is still in China, to work in the Fashion Industry.
Je ne voulais pas travailler dans ce secteur plus jeune. Il n'y a que moi qui travaille dans la mode ! Ma famille est en Chine.
If it is normal to like fashion and arts, you also need to be fluent in different languages: for instance, I speak Chinese, French and English. You also need to be at ease with design tools such as Photoshop: what is really important is to know how to manage a brand's image.
You need to like talking to other people, to know everything about everything (makeup, model agencies, photography, graphic design…) in order to be relevant and efficient.
S'il faut bien sur avoir le gout de l'art et de la mode, il faut aussi avoir une bonne maitrise de différentes langues (je parle Chinois, Anglais et Français couramment). Il faut aussi savoir utiliser les outils de design comme Photoshop et savoir gérer l'image d'une marque.
What would be the downsides of your job?
I don't particularly see any downsides in doing my job, because I'm lucky enough to do what I want to do: had I to face obstacles, I would have to try to find a solution.  Even if I love being a graphic designer, I missed having real interactions with people; what I love chatting, laughing and debating and I couldn't have it behind a desk. I enjoy every day at work because I get to meet new people very often, because one of my main activities is to build a network.
Je ne vois pas particulièrement de points négatifs à mon métier, car j'ai la chance de faire quelque chose qui me plait, mais si je devais faire face à un obstacle, alors je chercherais à trouver des solutions adaptées.
J'adorais le graphisme, mais ce qui me gênais le plus était le manque de sociabilité ; en effet, je savais que je ne pourrais pas rester tout le temps derrière un ordinateur ; ce que j'aime, c'est converser, c'est rire, c'est débattre, et je manquais de tout cela dans un bureau. Aujourd'hui, je profite énormément de cette chance que j'ai de créer la rencontre, car un des points fondamentaux de ce que je fais est de créer du réseau.
For me, the most important thing you need top know when you want to work in the fashion industry is that you need to love exchanging and sharing ideas with other people.  Indeed, I am led to meet a lot of people during Fashion Weeks, and part of my job is to cultivate a link with them. You have to be at ease with others and to be curious.
Pour moi, le plus important pour travailler dans la mode, c'est qu'il faut savoir échanger avec les autres, et partager nos idées. En effet, je suis conduite à rencontrer un bon nombre de personnes durant la Fashion Week et une partie de mon métier est justement d'être à leur écoute, de savoir garder contact et donc d'être à l'aise socialement. Il ne faut pas avoir peur d'aller vers les autres et d'oser ; pour cela, il faut donc être curieux et savoir d'intéresser à autrui.
What do you like the most about Fashion Week?
I have been to Fashion Weeks for five years already! What I love about defiles is that I got to discover new inspiring collections every time and new qualified people too. I can keep new acquaintance's networks too to plan another meeting. I also go to Beijing and Shanghai for Fashion Weeks; if Beijing's defiles are more traditional and classical, Shanghai's ones are much more moderns. My dream who be to raise make the French market discover Chinese fashion designers.
Cela fait déjà 5 ans que je vais à la Fashion Week ! Ce que j'aime à la Fashion Week, c'est avant tout découvrir de nouvelles collections chaque année. Cet événement me donne aussi l'occasion de rencontrer des gens qualifiés dans leur domaine, ce qui me permet donc de pouvoir échanger les avis ou une idée. Je garde éventuellement les réseaux sociaux des personnes que je rencontre en vue d'une possible collaboration. Je fais aussi les Fashion Week de Pékin (plus traditionnelle et classique) et de Shanghai (plus moderne). Mon rêve serait de mieux faire connaitre les créateurs asiatiques aux français.
I went to my first Parisian defile when I was booking a Chinese model, but it was an unknown designer. All the digital aspects (communication, appealing website) help with selling products, whereas defiles tend to win the client's loyalty because they feel special since fashion shows are only accessible to a low number of people. The more you have a memorable show, the more the brand will be attractive and the prices high. Défilés are genuine shows since they enable the client to grasp the essence of the brand. The rise of digital defiles, thanks to coronavirus, is a huge commercial initiative. My favorite Fashion Week are the Paris and Milano ones, because the biggest luxury brands show their collections there.
J'ai pu assister à mon premier défilé à Paris quand j'étais bookeuse avec une mannequin chinoise, et il s'agissait d'un petit défilé. L'aspect digital d'une marque (communication, site internet attrayant) sert à vendre les produits, tandis que les défilés servent à fidéliser une clientèle spécifique, que l'on fait expressément sentir spéciale et exclusive en organisant pour elle des soirées mondaines -et qui permet aussi de fixer des prix hauts-. Le défilé permet de diffuser une image de marque et de proposer la vision de l'entreprise : c'est un spectacle. Les initiatives de défilés digitaux, dont on a pu voir l'essor à cause -ou grâce- au coronavirus, sont une initiative essentiellement commerciale. Mes Fashion Week préférées sont celles de Paris et de Milan, car c'est là que défilent les plus grandes marques de luxe.
Do you want to learn more about me? Find me on instagram (@seven_chiang), linkedin ( https://www.linkedin.com/in/xuewenjiang/ )….