STEPHANE ROLLAND SS 2022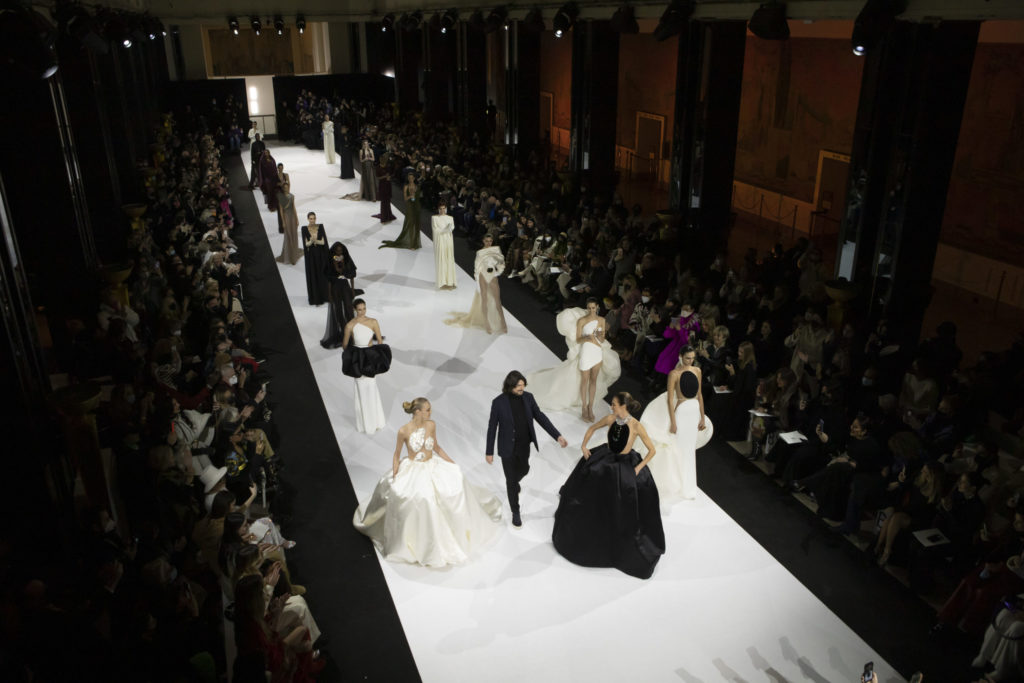 The gesture, revealing the thought.

Stéphane Rolland deconstructs to express a new balance, a return on oneself. He remodels and oversizes.
Yes, the gesture reveals what we are, so voluptuousness is in season for this new summer collection.
The abstract expressionism of Viani, the young Italian-Spanish painter, inspires.
Each model unfolds generously, in tunics and airy caftans.
Rich purity.
Sleeves caress the ground, huge draped hoods and head veils add mystery, protection.
As airy as they are imposing, chiffons glide and lift on draped gowns. Metallic weaves
illuminate long jackets.
Dressed in an inverted cape or an open tunic, the woman turns her back to us to better reveal it.
A blazer with solar reflections rubs shoulders with a Tibetan jacket in embroidered suede, rolled up like a plaid on the body.
The skirts are fluid and transparent, light as air. The pants and extra large suits cut in a white
in a white wool gazar mark a new balance.

A stability.

The curves are declined in pebble sculptures, both in the construction of the dresses and in the accomplishment of the embroidery and
embroidery and leather-clad jewelry.
These very jewels are also giant stones; precious like emerald, aquamarine, topaz and
citrines in crystal blown and cut by Théophile Caille, glassmaker with the flame.
A look, a woman, a spirit.
Free.
Pictures & text (c) Stephane Rolland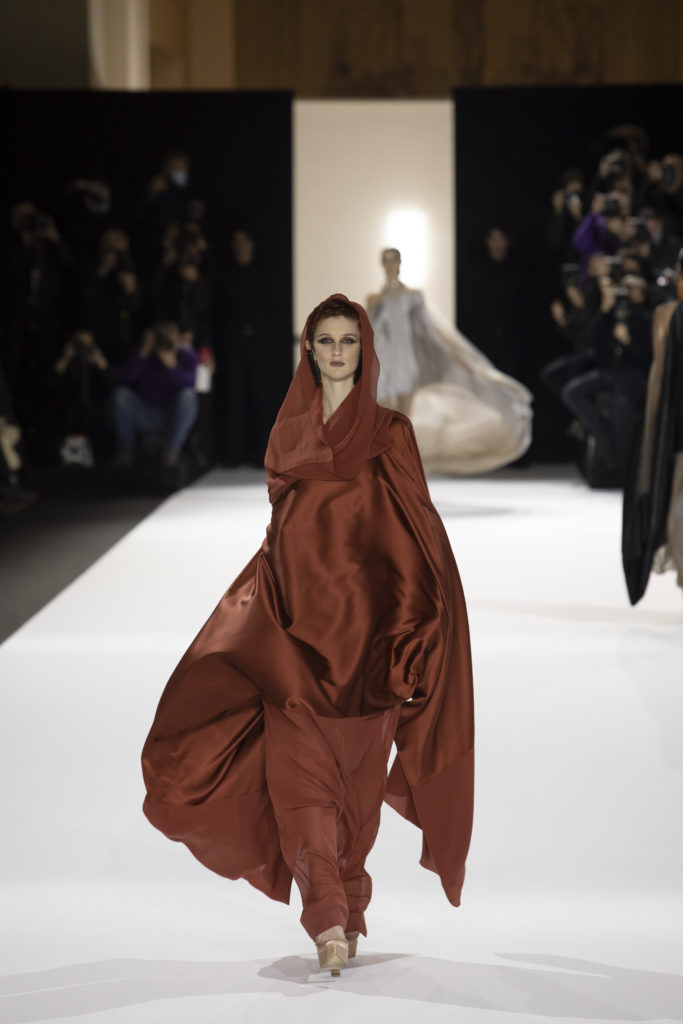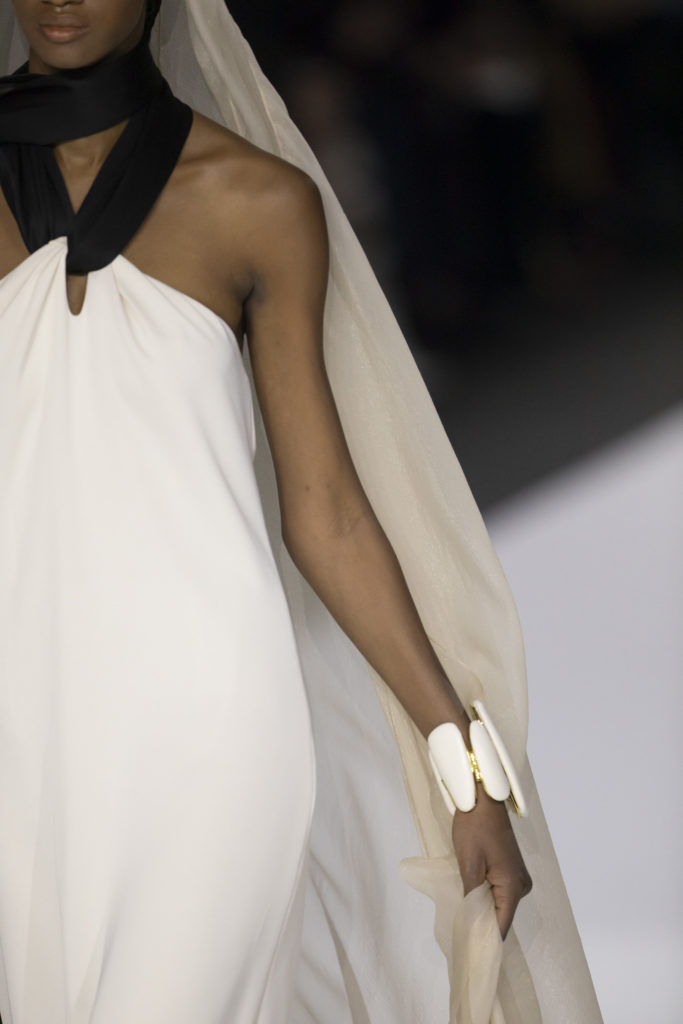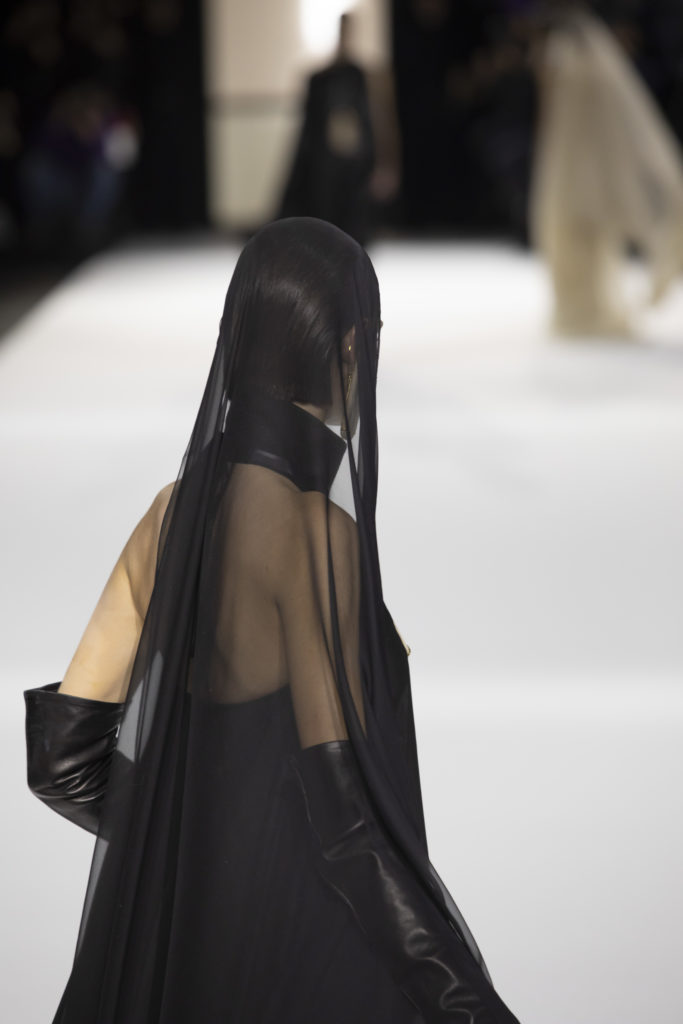 Le geste, révélateur de la pensée.
Stéphane Rolland déconstruit pour exprimer un nouvel équilibre, un retour sur soi. Il remodèle et surdimensionne.
Oui, le geste révèle ce que l'on est, alors la volupté est de saison pour cette nouvelle collection d'été.
L'expressionnisme abstrait de Viani, le jeune peintre italo-espagnol, inspire.
Chaque modèle se déploie généreusement, en tuniques et caftans aériens.
Riche épure.
Les manches caressent le sol, d'immenses capuches drapées et des voiles de tête ajoutent un mystère, une protection.
Aussi aériennes qu'imposantes, les mousselines glissent et se soulèvent sur des robes toges drapées. Les tissages métallisés
éclairent de longues vareuses.
Vêtue d'une cape inversée ou d'une tunique ouverte, la femme nous tourne le dos pour mieux le révéler.
Un blazer aux reflets solaires côtoie une veste tibétaine en daim brodé, enroulée comme un plaid sur le corps.
Les jupes, elles, sont fluides et transparentes, légères comme l'air. Les pantalons et combinaisons extra larges taillés dans
un gazar de laine blanc marquent un nouvel équilibre.
Une stabilité.
Les courbes sont déclinées en sculptures de galets, tant dans la construction des robes que dans l'accomplissement des
broderies et des bijoux gainés de cuir.
Ces joyaux mêmes sont également des pierres géantes; précieuses comme l'émeraude, l'aiguemarine, les topazes et
citrines en cristal soufflé et taillé par Théophile Caille, verrier à la flamme.
Une allure, une femme, un esprit.
Libre.